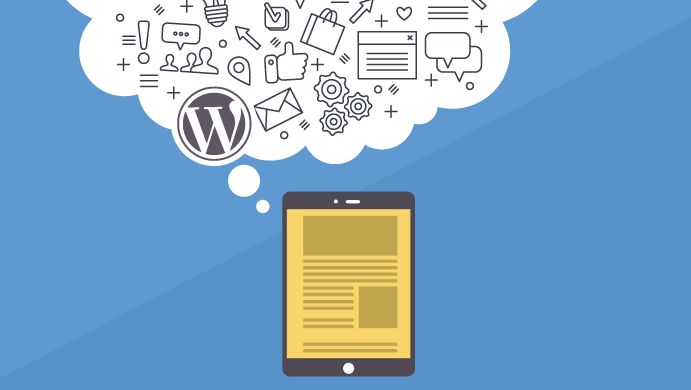 According to ManageWP, more than 74 million websites and blogs are hosted on the WordPress platform. This is quite a significant number and there is a reason for that! WordPress offers a number of different advantages for its users: be it the reduced site loading time, the presence of customizable plugins, regular updates, and heightened security – there are many reasons why wordpress.org has been downloaded 46 million times!
Put simply, WordPress is a common man's blogging platform that does not require a lot of technical knowhow or a lot of capital investment. Let's learn a little more about why hosting your blog on WordPress is a great idea!
1. WordPress plugins
This is probably one of the best parts of WordPress. It offers some of the best plugins, which not only enhance the functioning and user-experience of your blog but also make the entire blogging experience more flexible and comfortable for you.
There are hundreds of plugins which customize your blog the way you want. All you would have to do is choose from the list, download the plugins and use them as per your requirement. How does this work?
For instance, you have an active blog on WordPress and you are looking to have an associated ecommerce section. All you would have to do is integrate an eCommerce plugin, like WooCommerce, and you are done!
2. Familiarity with search engines
Once you have launched a blog, the next big thing that you would look forward to is to get a lot of traffic, and rank better on search engines, right? This is where WordPress helps you out. WordPress is SEO-friendly. The permalinks settings, the SEO plugins, or even the neat and clean formats, everything contributes towards making the blog visible on the search engines.
In this way, WordPress ensures that your website is in line with the search engines' needs without much ado, unlike other platforms.
3. Blog server ownership
Most free blogging platforms are willing to host your blog, but the structure would be such that you would mainly be renting out space on the server. When you are dealing with WordPress, you are, literally, owning the space on the site and thus the server in order to host your blog.
WordPress is a self-hosted platform. This would act as your personal space to store any documents or files for the blog content. The only thing that you need to have is a suitable domain name and hosting, which can be easily obtained from websites like Top.Host.
Additionally, most free blogging platforms would not let you own the domain name fully. A domain name in such platforms looks like  www.abc.blogplatform.com, while in WordPress, it is www.abc.com.
4. WordPress updates
WordPress is an open source platform for blogging. In addition, there are a lot of people using this platform. As a combination of these 2 factors, WordPress is receiving continuous and unbiased feedback from all sources. In turn, it is making a constant effort to bring out improvements in its design, process, and operations. This is what brings us to the updates.
WordPress rolls out updates regularly which ensures that the platform remains glitch free, while also introducing new features and functionalities.
5. Quick loading speed
One of the things that make a blog popular is how quickly it loads on the screen of the user. If your site takes a while to load, it is going to disappoint the viewers and make it difficult to generate higher traffic.
WordPress ensures that your blog loads quickly. Since it is a known fact that 47% of website users will expect a site to load within 2 seconds and another 40% will leave the page if the website takes more than 3 seconds to load, the quick loading speed of WordPress pages comes in handy and can help your retain your viewers.
6. WordPress community
Of all the benefits offered by WordPress, the presence of a large community sits on top of the list. 27% of all the websites across the globe make use of WordPress as a blogging platform.
Thus, WordPress has an active community of developers and QA engineers, internet forums etc. Such a vast community works for making your WordPress experience flawless while also evolving at the same time.
Got a technical query? You can easily find the solutions over the web. All thanks to an active WordPress community.
7. Monetization
In addition to all the advantages mentioned above, WordPress also helps you in earning from your blog. Once you have generated enough traffic, you can easily make an attempt to monetize your platform by contacting private advertisers.
Additionally, you can also get in touch with advertising networks. It is essential to mention here that various advertising networks do not entertain sub-domain hosted websites like BlogSpot and Blogger. This is where WordPress helps you out. What's more? Ad networks like PropellerAds and Google Adsense have even launched their own dedicated plugins for WordPress blogs. One more reason as to why you should host your blog on WordPress!
This brings us to the end of this article. We hope that by now you must have understood as to why WordPress is the best platform for hosting your blog. What are your views on this? Got any questions? Leave a comment and we will get in touch soon!