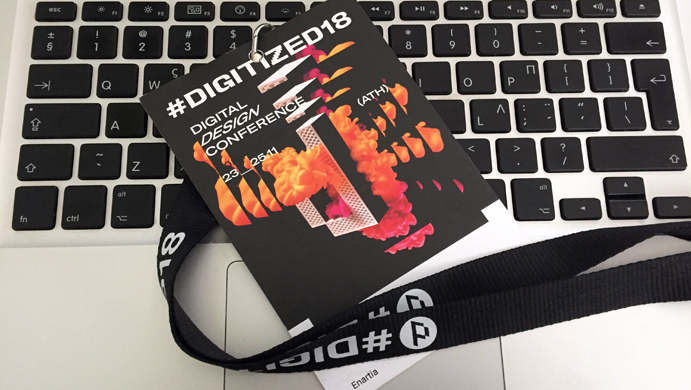 At TopΗοst we enjoy observing advancements and always learning new things, in order to constantly better ourselves! So, we couldn't help booking tickets for Digitized18, a conference that through interesting speeches manages to inspire designers, as well as each and every single one of us working on creativity in digital media.
On November 24, we headed to Onassis Cultural Center. We put our tags on and went into the full venue, eager to hear all the interesting things that was about to be shared with us by Gert Franke (CLEVER°FRANKE), Antonis Kiriazis (Ignota.io), Evelien Griffioen (Fabrique), Jennifer Heape (Cult LDN), Minni Lakotieva (Moving Brands), Paul Brie (teleportHQ), Rania Svoronou (IBM iX), Jessica Leitch (Idean UK), Steve Vranakis (Creative Lab, Google), Adrien Pin (Merci-Michel).
The event lasted about 8 hours, and time flew before we even noticed! Each presentation was food for thought, triggering our minds. When we finally departed, we had lots of ideas in our luggage, wow stuff, and several conclusions. We would like to share the latter with you, exactly like we would if we met at a café to discuss about what impressed us the most at this event on digital design, the biggest of its kind in Southeastern Europe!
1. Design makes the difference in presentations, too
One of the general conclusions we reached was not about the content of specific speeches we had the privilege to attend; it was about the way they were presented! Yes, of course the shared information matters, but it is equally important how you choose to communicate it. There were presentations we were left wondering how much time it took them to prepare. We attended, not only because they featured intriguing information, but also because we wished to see how they would go on design-wise. For example, Gert Franke presentation involved motion, information and was very pleasant (it is not the only one, apparently).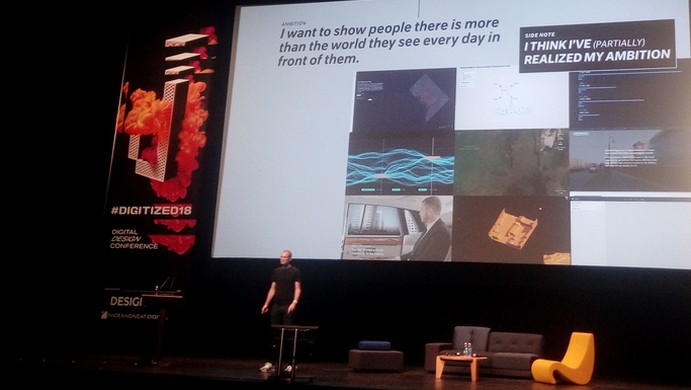 So if you ever organize a presentation in your life, get truly involved and use your imagination to make it as beautiful and contemporary as possible! That way, you will minimize the possibilities of attendees getting distracted (comments like "what a great presentation" whispered does not count as attention distraction).
2. Even the slightest motion can shake things up
Google's Creative Lab executive creative director Steve Vranakis, spoke of interesting things that have happened within the spectrum of his work, heading up to the stage of Onassis Cultural Center. He surprised us with nearly everything he said, but most of all with what he mentioned about the application he created with his team for Lesvos immigrants, refugee.info. It is a "map" of great use to every refugee reaching the shores of our country – and not just that. It was created, as Vranakis said, via Google Docs within 36 hours! In total, 100,000 refugees have used it, while it boasts about 1,000 visits per day. Conclusion: a simple idea can make a difference, be it in society or the micro-world within a company.
3. Voice might just be the future
"By 2020, 50% of all searches will be done with the use of voice". This has been one of the "hottest" pieces of information we kept from Digitized18. It is a conclusion reached after research from Comscore, shared with us by Jennifer Heape (Cult LDN), along with a series of other data regarding how much "bigger bonding" there is with a brand incorporating voice, but generally how much easier the use of voice may be compared to text, for human brain. Check this out and get a taste of what is coming in the (immediate) future:
4. We ought to focus more on service design
"Service Design is a way to turn services into easy-to-use, useful, effective, influential and desirable" Jessica Leitch explained (Idean UK), on the stage of Digitized. Just before, she had asked the audience if they were familiarized with the specific term – no more than 20 spectators raised their hands. Through her presentation, Leitch conveyed the message that Service Design is worthy of more attention.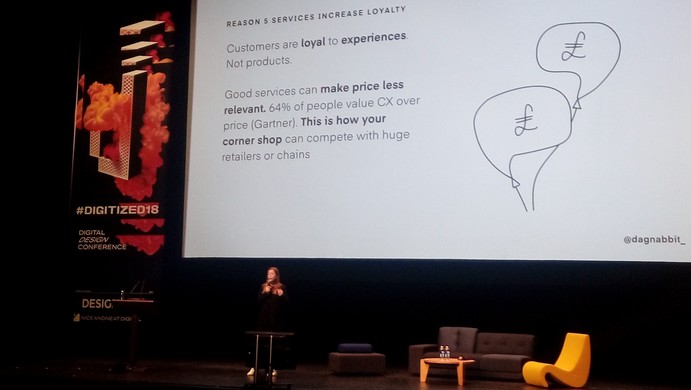 5. There are many viewing angles!
All the speakers, without an exception, referred to the importance that lies in a designer taking into account most angles of an audience. Whether it is about an installation or a prompt check-out at the supermarket, pinball or an application for finding houses…so the conclusion is the one: we must not forget that the recipients of what we design, do not function exactly like us. If we want to succeed, we must "step into their shoes" and not limit our angles to the way we perceive the world around us.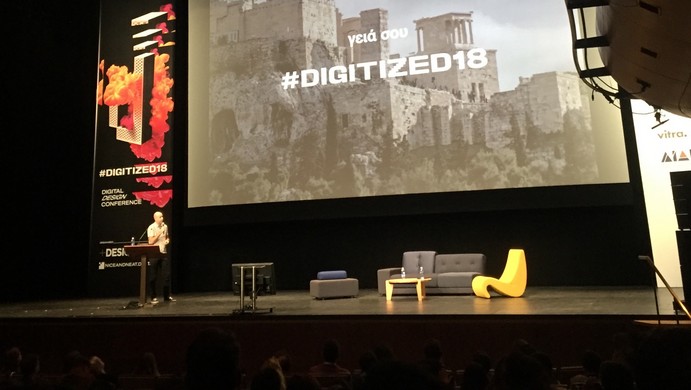 These are the thoughts we left Digitized18 with. We hope that you found them interesting, inspiring even, so that you can make use of them to work some magic yourself! See you at the next Digitized – because we will most definitely be there.
*All the photos are from our personal stock, apart from the one capturing all the speakers together – that one we gladly "borrowed" from Digitized18!