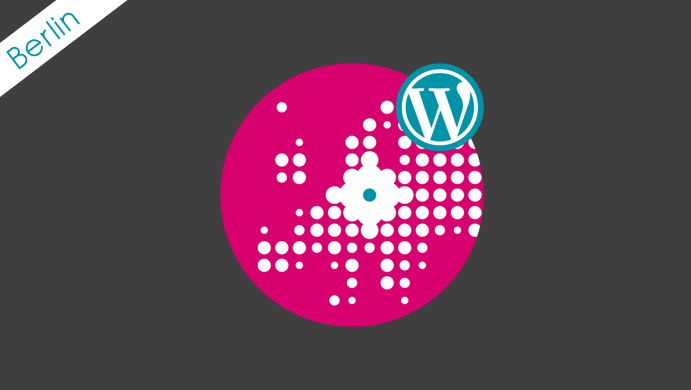 WordPress is the most popular content management system. It is used by 34.1% of all sites at the moment online, according to w3tehcs. In short, many people love WordPress. And we at TopHost are no exception. This is why every year we take part in WordCamp Europe.
This year, date had been set for Berlin. The big celebration of the European WordPress community would be hosted in this historic city, from June 20 to 22, and it would have everything: interesting speeches, workshops, swags etc.
So we packed our bags, traveled, attended the event from up close at Εstrel Hotel and Congress, and we came back. We looked at photos, notes and of course we decided that we could not keep all that experience to ourselves. To that end, we share with you the highlights of WordCamp Europe 2019. This is a great way to convince you that it is worth attending that wonderful event next year, as it will take you to Porto of Portugal!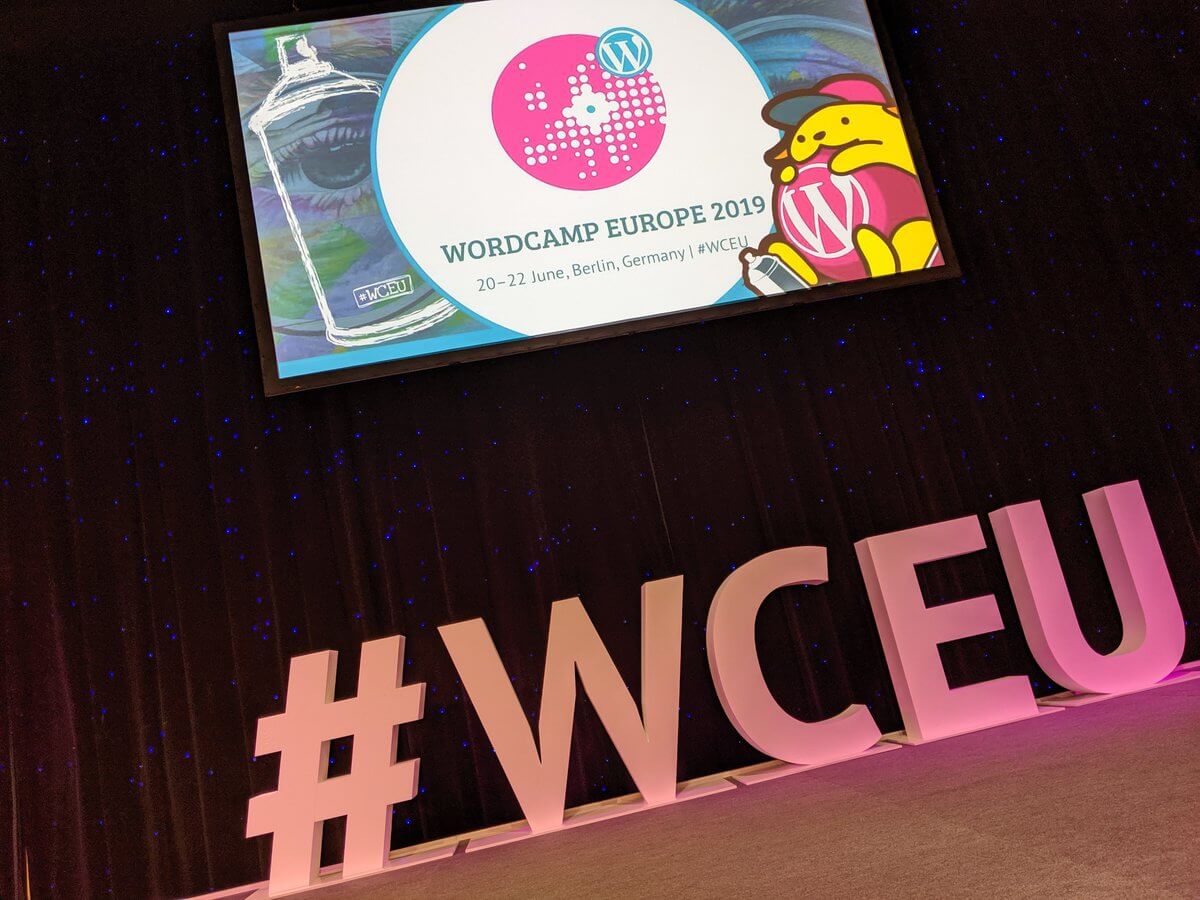 Content for all
The schedule of WordCamp Europe 2019 was filled with speeches and Workshops, referring to professionals or WordPress lovers of all backgrounds. You could find something interesting and attend events, whether you were a Developer or a member of a Marketing team. In fact, every speech was broadcast live and it is still online so that nobody would miss it, if attending something else or if he just could not be there. In addition, it is worth noting here that there was live captioning in English to each speech (+1 point for accessibility).
Turnout
One of the most impressive things about WordCamp 2019 was the turnout, since according to Μatt Mullengweg (see below) this was the biggest WordCamp that has ever been hosted so far. 3,260 tickets were bought and 2,734 people from 97 countries attended! In fact, 1,722 people attended WordCamp for the first time!
This means that you could meet people working in other companies, people living in different countries but share the same or at least similar interests to yours. Networking opportunities were immense.
Volunteering at its best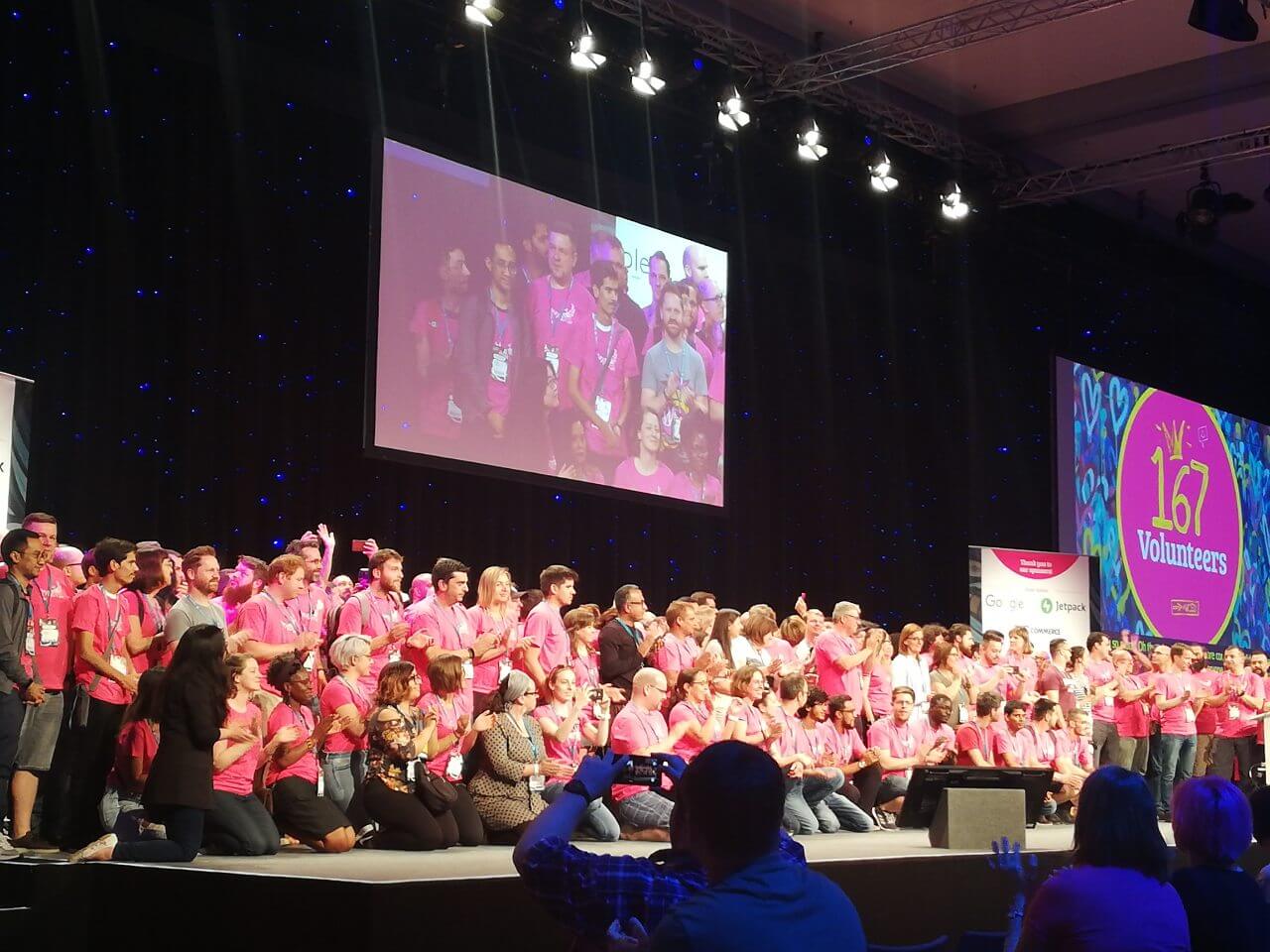 WordCamps are hosted by the WordPress community, which means that they could not be implemented without volunteers. With a huge smile on their faces, coming from different backgrounds but with the same love for WordPress, volunteers were at every single part of the venue, serving the attendants and upping the energy within this event. 167 people in total!
Among them, Enartia Head of Product, Marianna Siouti. I asked her to share some of her thoughts from this experience:
"WordPress is a community of volunteers, supporting countless of people in their first steps of online presence. At the same time, it is an expression tool and offers the opportunity to people, who would have never dreamed of, to start working in technology and change their life for the better, both personally and professionally. And all that is based on volunteers, which is something that excites and moves me as a person.
As volunteers, people you meet at a WordCamp are wonderful, super friendly and with a witty sense of humor, helpful with positive vibes and truly interesting. They are there to help out pro bono, believing in equality and being so evolved in many different aspects. I have made friends through this experience and I have acquired a knowledge of Spanish through volunteering in Spain".
Matt Mullenweg's speech
One of the highlights at WordCamp Europe 2019 was indisputably the speech of Matt Mullenweg, founder of Automattic – the company that owns Wodpress.com. Mullenweg spoke about Gutenberg Editor at the crowded Track 1, completing a Summer Update, as he called it.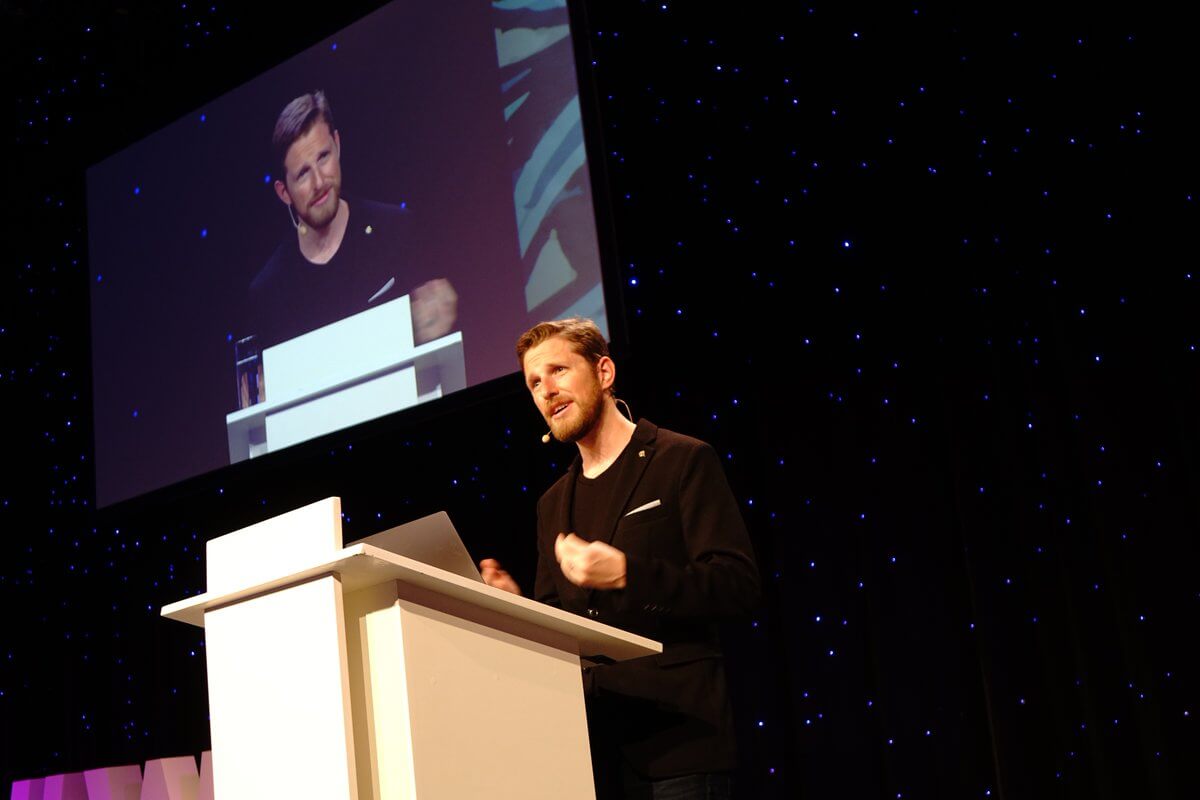 At first, he reminded us that this new editor was launched in December with 5.0 version and is now in stage 2, where its blocks potentials and optimizations are in progress. After presenting what has already been done, he mentioned some of the coming features that are currently tested at GitHub. For example, "snap to grid" that will offer the option of changing the size of photos within the blocks or a system of installing new blocks online. Furthermore, footnotes are also coming.
Next stages of Gutenberg Editor, as Mullenweg pointed out, will be the 3rd stage with an emphasis on multi-user editing, and the 4th stage with multilingual support (at that point, there was a huge cheer from the audience).
During the Q&A with the audience, an interesting question was asked about Themes as to whether or not they will remain obsolete with Gutenberg. "I do not know", Mullenweg replied and added: "They will surely change, but I do not think that they will ever go away". Moreover, he noted that "Themes" as we know them may evolve over time.
Sponsors area
Of course, we could not leave out the sponsors area from our list with the positive things about the event. You could get to know a product or meet people from well-established companies, as well as play or simply win cool stuff (without even playing – just like that!).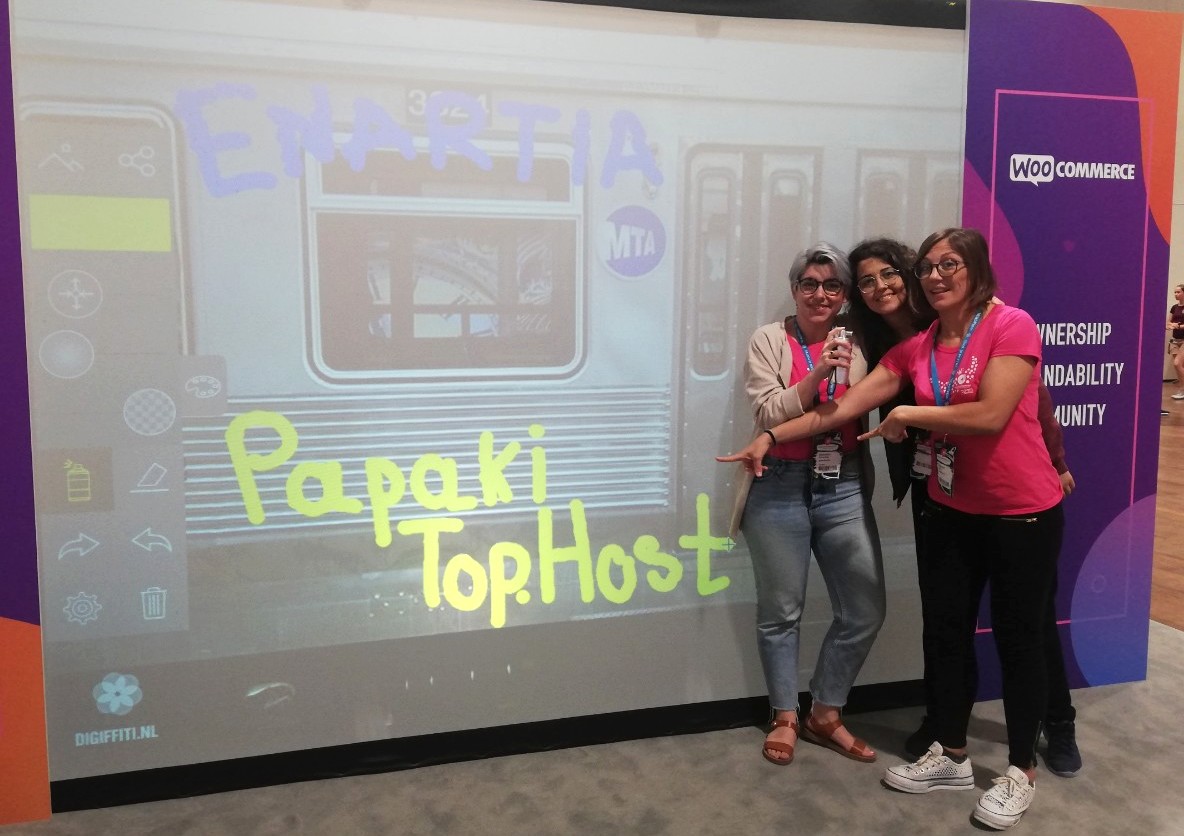 One of the most impressive kiosks at the sponsors' area was that of WooCommerce, where you could use a virtual spray to paint any digital graffiti you wanted and enter a ballot for the grand prize. We did not do anything special aesthetically, but we had fun and took a lovely photo.
Another kiosk that stood out was that of Jetpack. There was a wall, where people could respond as to what they like most in having their own website. You glued the post-it and in a minute you could see your response turning into a drawing.
Party!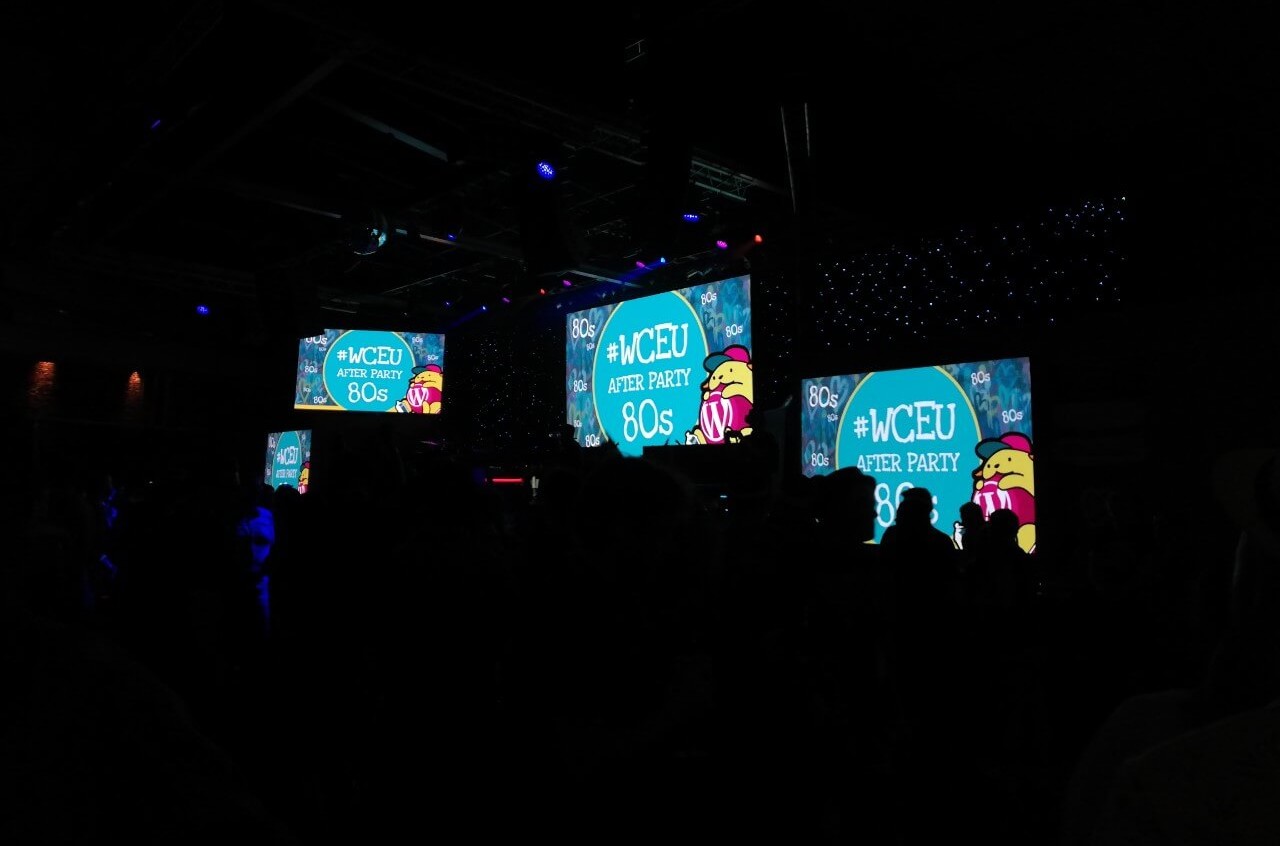 The party wrapping up this year's WordCamp Europe has earned its place among the highlights. Its special theme was the 80s and it managed to make people have great fun and dance. For sure, there were some problems, but this is the most remarkable highlight of them all. Because many people host parties, but only few of them acknowledge their mistakes and say they are sorry. They uploaded a detailed blog post where they share the mistakes that they made, asking for a sincere apology.
Rendez-vous at Porto
These were the basic details that we wanted to share. We could talk more about the speeches, but given the fact that they are still online, we think that there is no need for us to do so. You know where and when to see them! We hope that we have given you all the motivation you needed, so as to book tickets for next year, flying to Porto. And yes, we will definitely be there!