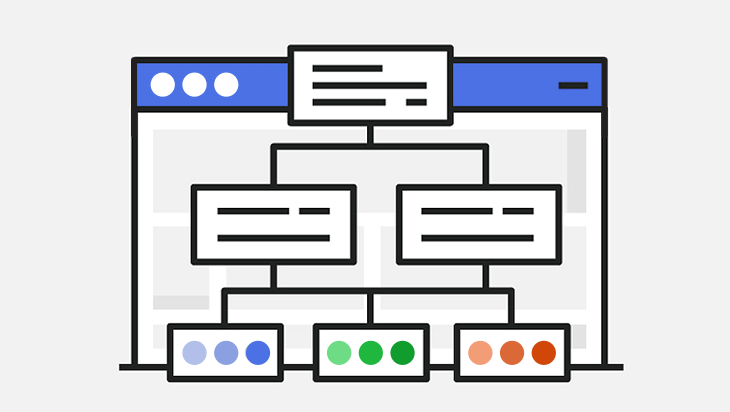 Sitemaps are probably the most misunderstood tool in the SEO toolbox, all because people have different misconceptions related to it. Many believe that they just help Google in indexing websites. But, is this the only reason why you must create a sitemap?
No.
There are plenty of other reasons, and there are a lot of ways through which you can create sitemaps. Do not get overwhelmed. In this article, we will touch each of the important aspects related to them in detail. Let's get started.
What is a sitemap?
Consider a sitemap as an index/contents page of a book. As an index page holds all the information related to all the important topics contained in the book along with their chapter and page number, a sitemap acts as a simple directory for all the important web pages and URLs that a website contains. This way, it makes it easier for Google, or any other search engine, to find quickly all the pages on your website.
A sitemap can have multiple formats, but the most common ones include Text, XML, and RSS. So far, XML is the most common sitemap format which is widely used by most webmasters. That said, there are no downsides associated with a sitemap, but it can definitely help you in:
Boosting the search engine friendliness of your website
It provides a clear path for the search engine crawlers and bots to explore the website and index the pages, which makes you win brownie points from the search engines.
Enhancing the website's internal navigation
Since a sitemap makes way for a clean, crisp, and organized website's structure, it enhances the internal navigation of your websites.
Improving the structure of your website, and making way for a better customer experience
Clear navigation, and a well-designed website, in turn, enhances the overall experience of the customers.
Now that you know the importance of a sitemap, here is an obvious question – how to create one? Let's find out.
How to create a sitemap?
Thankfully, creating a sitemap is not rocket science. You don't need to write any code or something. All you need to do is find the right tool, and you are done! Here are some of the best tools that can come to your rescue:
Simply, visit XML-sitemaps.com. You will be asked to enter the URL of your website. The service will crawl your entire website. Once it has crawled and indexed your website, it will create a ready-to-upload XML sitemap file which can then be added to your Google Search Console.
If you want to create a sitemap for your WordPress website, there could be no tool better than Yoast SEO Plugin. One of the best SEO plugins for WordPress websites, the tool not only helps you in optimizing your blogs and articles from the SEO point of view, but it also helps you in creating an up-to-date sitemap for your website.
This is another free server-side sitemap generator which can help you in generating a range of sitemaps including Google sitemaps, txt-based sitemaps, and HTML sitemaps and so on. Although the software is no longer updated, it can be still used for free.
This tool not only helps you in creating sitemaps, but it can also help you in detecting the problems in your website which might be responsible for the sudden dip in your search engine rankings. The tool works by crawling your website. It then generates an XML sitemap which can be then downloaded and uploaded to your website.
G-Mapper 2.2 is a free sitemap generator that creates sitemaps. It is compatible with all the major search engines like Google, Bing, and Yahoo. Thus, whenever you update your sitemap, the tool pings search engines and lets them know.
This sitemap generator helps you generate XML and HTML sitemaps. Easy to set up, use and generate sitemaps, this tool comes in the form of a Windows application and generates automated HTML and XML sitemaps. However, the tool is available as a paid version for $30.
If you have a Drupal website, the best way to generate a sitemap is by using Drupal XML Sitemap. The tool not only generates sitemaps on the go, but the sitemaps thus generated also meet the requirements set by sitemaps.org. What's more, the software is also capable of submitting your website to major search engines like Yahoo, Google, Bing, and Ask.com.
Screaming Frog is another great tool to create an XML sitemap for your website. Irrespective of the type of CMS of your website, the tool can generate a sitemap on the go, and then submit it to all major search engines.
The Wrap Up
As is evident, the entire process of creating a sitemap for your website is extremely simple. Once you have generated one, all you need to do is upload it to your website, and then, submit it to Google! What is your take on this? Did we miss any important tool which you think should be mentioned here? Write to us in the comments below!