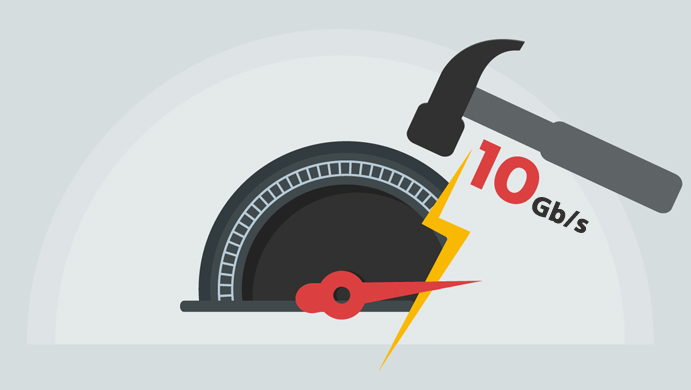 Would you like your site running at an incredible speed? Never have to see that irritating "loading" icon and never ever hear another complaint, about your website and its streaming? We want the very same thing for every site our infrastructure hosts! Over these past years, we have been going above and beyond towards achieving that and in July 2019, we have made the biggest and perhaps most determinative step in that direction: we have brought 10Gb/s at Τοp.Ηost! Yes, that's correct – no typos here! Now we are running at 10Gb/s. This leads to a lot of cool stuff for you, as well as for us as a company. Do you want to know more details? Are you interested in knowing what this change is about to bring, as much as what we aimed at when implementing it? Here we go!
Why 10Gb/s?
It is no secret that Top.Host is a top hosting company in Greece. Thousands of users, professionals in the field and others, trust their hosting to us. This fills us with great joy, as well as a sense of responsibility. There is no room in just being good. We want to be the best and we strive for that on a daily basis. And to that end, some years ago we enriched our portfolio with hosting services to Greek servers. We started our collaboration with one of the biggest data centers in Greece, Lamda Hellix, and we trusted there our own servers, which we of course made available to our clients. Ready for our next step, a few months back we decided to move forward with an investment that would be related to the change of our network's architecture and the increase of its speed by 10 times. 10Gb/s has been a one-way street for us since it opened new and exciting horizons. Given the changes, we would limit downtime to a minimum, while at the same time increasing flexibility and having a greatly promising future ahead.
The process of upgrade
The decision was granted by the Department of Infrastructure by Enartia Group, owning Top.Host. The task force was set and the whole plan was outlined. The huge change would take place somewhere in July 2019. The first step would be to conduct research in the field of providers. After examining all choices, we finally decided that the best would be to continue on our strategic collaboration with our existing provider. At the same time, we redesigned our network's architecture and wrote down all the needs that would come up in terms of equipment. After research and trial, we concluded at the optimum equipment for our needs and the standards that we had set. We were ready. We had everything we needed to go ahead with a fundamental change, not only for us but for our clientele too. The team in charge traveled from our headquarters in Heraklion Crete to Athens and implemented the upgrade. The process started late in the evening and was completed the following morning. The staff of the company could be updated live as to the course of the upgrade, through an intercom channel operating at Slack! This shows how important the whole endeavor was for us. Of course, the live update did not only take place to share our enthusiasm but also to know the course of the process. We had to know what is happening because everything could turn wrong. Something might not have worked properly, or a mistake could have been made with a negative impact on the smooth function of our services. But in the end…everything was perfect. We did it!
Top.Host becomes the first commercial hosting company at 10Gb/s
Changing our network's speed at 10Gb/s is a fact. We have become the first commercial hosting company to run at 10Gb/s, but this is not the only thing that fills us with joy and pride. Moreover, we are thrilled because this change brings a lot of positive effects for our customers, both short and long term.
How this affects our customers
First of all, the customers that have chosen a hosting plan for their big traffic websites with our Greek servers have already realized the difference. Ten times their existing speed means that the response time is exceptional and the end user enjoys the best experience. Our smaller customers may not have realized any difference just yet, but the change is there and it is to their benefit. No matter how big or small the website, all our customers will enjoy greater reliability. Our new network's architecture, combined with the unique speed, forge our services so that there is no problem, in the event of something going wrong. But besides reliability, the customers that have trusted their website for hosting at the servers of Top.Host in Greece will enjoy new prospects with us. With the investment that we implemented, we can enhance our portfolio with new services, expand and generally empower hosting in Greece! We hope all that excites you as much as it has excited us. We are ready for a better future and we hope that you stick around when we experience it!