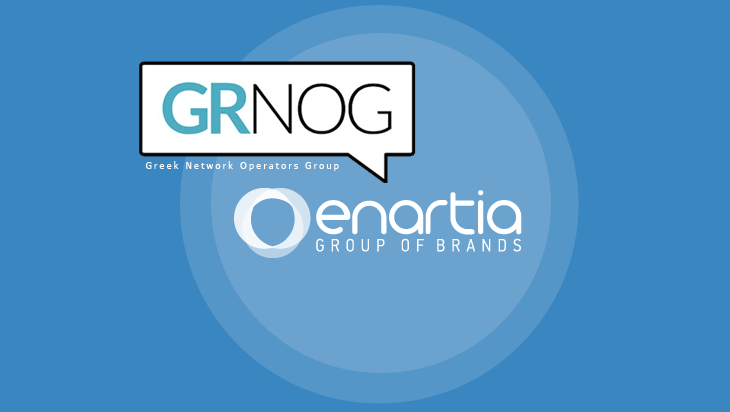 In our industry, collaboration with others is vital for our success. By working together with other companies that do similar and related things, sharing knowledge, know-how, and experiences we all move forward faster.
In the Greek Network Ecosystem, which is composed of ISPs, like OTE, Wind, and Forthnet, and content providers like us, Hostmein, and Skroutz, the go-to place for cooperation and collaboration is GRNOG. GRNOG is the Greek Network Operators Group and is a group of individuals that works in the general networking sector in Greece.
What does GRNOG do?
GRNOG operates a mailing list, in which members can discuss technical issues, ideas, and share experiences. That way, if one company tried a new technology, and found some shortfalls and caveats, they can share this with others, to help them save time and effort. If another company needs advice, they can get it from others that may have more experience. It's an environment that everybody wins.
Moreover, once a year, in Athens, GRNOG hosts a daily event with presentations, time for networking, etc. This event attracts more than 100 people from all over the industry and features technical as well as more general talks for topics such as AI. It is a great opportunity for all the community to get in one place, meet face to face, discuss issues, and, in general, improve the overall situation of the entire Internet in Greece.
Enartia and GRNOG
Enartia (the parent company of Top.Host) actively supports and participates in GRNOG. First of all, several employees are contributing to the Mailing List on a frequent basis. It's a valuable exchange of knowledge!
Furthermore, our team members are practically encouraged to attend physical events. They don't need to take a paid leave to do so, but it does not end there. Since we are in Heraklion, on the beautiful island of Crete, we make sure to cover all of their expenses to get there. That's right, plane tickets, hotels, car rental, everything!
Wrap up
We see a clear benefit in GRNOG and we can't help but support it with all our strength! We are committed to helping in any way we can and we suggest you follow us if you are also in a company that is related to the field. Go on and participate; everyone stands to gain by it. See you there?