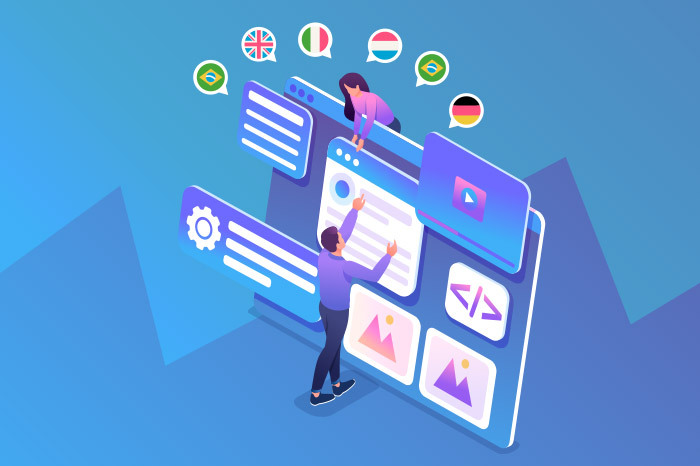 Multilingual websites have their own great pros. They cater to wider audiences who speak different languages. This helps you in establishing an instant connection with your website visitors.
However, a lot of website owners and developers struggle to make their website multilingual. Are you one of those? We feel you!
In this article, we will have a closer look at how you can make your website multilingual and why. But before we delve deeper – here is the good news – setting up a multilingual WordPress website is simple. You neither need to have separate WordPress installs for each language nor to set up a multi-site! All you need to do is translate your WordPress pages, posts, categories, themes and content into as many languages as you like.
Benefits of a multilingual website
Establish an instant connection
Although English has emerged to be the ultimate universal language, this doesn't mean that everyone fully understands it. In fact, it was found that 72% of consumers prefer to spend time on websites that speak their own language.
Build trust
You can -with no doubt- communicate better with your visitors when you speak their language. Τhere are higher chances that a website visitor won't trust you as easily -no matter how great you are in your field- if there is a gap of communication and language. Thus, it is essential that your customers are able to read and properly comprehend your website.
Multilingual SEO
If you want to appeal to locals it is necessary to rule the local search engines! You can achieve that when you create a multilingual website so you can also get a good multilingual SEO.
Increase sales
Your ability to communicate with the customers builds trust while getting extra points from local search engines. All the above contributes to enhance sales and profits.
Competitive advantage
Having a multilingual website also offers a competitive advantage. Although there are thousands of websites on the internet world, not all of them are multilingual. This is what makes you stand out of the crowd.
Making a multilingual WordPress website using plugins
You can make your website multilingual with the help of some easy-to-use tools. Plugins perform a range of tasks and offer to your readers the choice of selecting a language. Alternatively, they can also identify the visitor's location and show them suitable content.
Now that you have a brief idea of how plugins work, let's have a look at the best multilingual plugins for your website.
One of the most popular choices when it comes to creating a multilingual WordPress website is WPML. It allows you to translate each post, page, category into multiple languages. The plugin automatically reads the visitor's browser language to determine the appropriate language. However, the visitor can still override this automatic detection. This plugin is available on a number of pricing plans starting from $29.00/ year.
GTranslate is another plugin which will translate all the content on your website using Google Translate. The plugin comes in a free and a paid version. Quite predictably, the services offered by the free plugin are not that great.
Polylang is another good multilingual WordPress plugin. It has a high number of downloads and has a high user rating. This plugin provides full translation options: translating from the backend to other features of your website -it does it all!
Polylang also provides professional translation services in case you need to outsource multilingual content. However, it is important to mention here that this is a free plugin and you can only get support via WordPress Plugin Directory Forums. Thus, if you are in need of urgent support, this plugin might not be the right choice.
Can you create a multilingual website without plugins?
Yes, you can but you will have to put much more effort and spend more time in doing so! The truth is plugins make your task much easier.
Creating a multilingual website is not rocket science. You can either choose to convert your website manually by translating each post, you can use plugins or create a multi-site. Try it out and let us know!
Good luck!