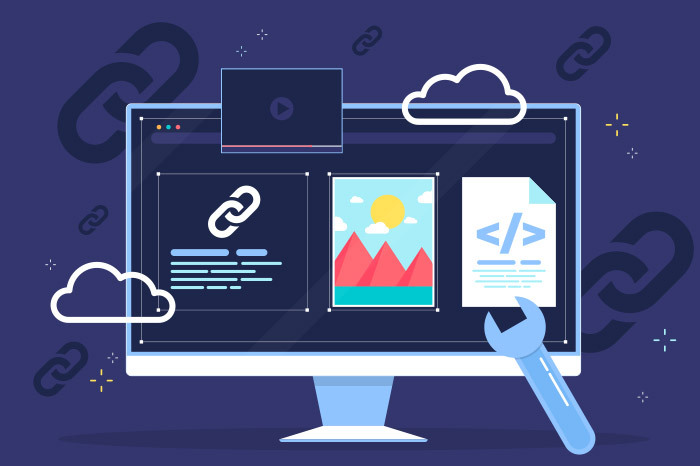 Links and backlinks are an important SEO aspect and an essential part of websites, in general. They are useful for optimisation, redirecting viewers to certain products and services, or simply linking to other sites which adds more value to your content. However, when these links are no longer functional they become broken links. For several reasons, those are bad news for your website.
If you want your website to be well-optimised, up to date, and valuable to your visitors, then read on! In this article we will explain what broken links are, how you can find them and clean up your website.
What are broken links?
A broken link is simply one that is no longer working, meaning it doesn't redirect a user to the site or page that it's supposed to. Upon clicking a backlink, the user will see either a 404 error or a message saying the website/ page is no longer available.
What causes them?
Broken links are a result of different factors, such as:
The webpage or entire website is temporarily or permanently removed
The website has shifted to another domain without implementing any means to redirect a visitor
The webpage URL has been modified or completely changed to a new address
Why are they harmful for your site and why do they need to be removed?
The first reason that broken links are harmful is that they mess up your website's SEO. Healthy backlinks help the search engine algorithm to view your site as properly optimised. Similarly, broken links cause the search engine algorithm to perceive your website as outdated and irrelevant. The more broken links your site includes in its content, the lower the chances of ranking high on search results.
Another reason is that your viewers will probably have a low opinion of your website, because of them. Your visitors will get the feeling that your site is not maintained. It shows a lack of effort in keeping things updated. Not to mention the dissatisfaction of being interested in a link and clicking it only to find it doesn't work.
For example, think of a visitor that enjoyed a product review on your website and clicked on the product link to buy the product. If the link is broken, not only will the visitor be disappointed, but you will also lose a valuable sale.
So it's no surprise that there is nothing you gain from having broken links on your site, but there is a lot to lose in terms of viewers and traffic, SEO, user satisfaction, and possible revenue.
How to detect and fix broken links?
The overall process of finding and fixing them is not complicated, but it can be time-consuming. Here's a step by step approach to removing or fixing them.
Step 1: Find all the broken links on your site. There are many online tools where you can enter your domain name, and they will scan and detect all of them on your site. (We have listed a few detection tools at the end of this article).
Step 2: Check the broken links one by one. Yes, it sounds like a hectic task if you have lots of them, but it's something you should do anyway. Find out where they previously led to. If you can't figure it out by memory, you can also try using the Wayback Machine.
Step 3: Find out the new URLs for those websites and pages. Then replace the broken links with the new and updated ones. Again, it can be pretty time-consuming.
Step 4: If you can't figure out where they led to or can't find the new and updated URLs, then simply remove them altogether and modify your content.
Tools and plugins to help you detect broken links
Here are some of the best tools and plugins you can use to scan your site and find them.
Broken Link Checker (WordPress Plugin)
Xenu's Link Sleuth (Downloadable application, quite popular but not updated for a few years)
Ahrefs Site Audit (Online tool)
If WordPress powers your site, it's better to get the Broken Link Checker plugin. For the rest, both Xenu's Link Sleuth and Ahrefs Site Audit are equally useful, with the only difference being that the former needs to be downloaded while the latter is an online tool.
We hope that you now have a clear concept of broken links and how they can hurt your site's credibility.