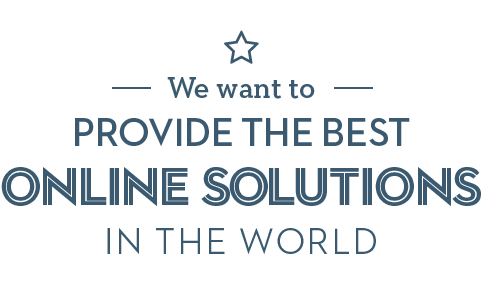 Our mission is to create an ideal work environment, where everyone will be inspired to work in balance. We want to provide our customers with the best online experience, through innovative services that will help them fulfil their dreams!
Benefits
Great Place To Work!

Great Place To Work!
You only need a day in the office to understand why we love it so much! It's the place where we spend ⅓ of our lives, so we want it to be amazing. Did you know we won an award for that?
Come As You Are

Come As You Are
Do you prefer a shirt and a tie or a superhero T-shirt? High heels or flip flops? Dress the way you like and come to the office with a big smile! We couldn't care less about dress code, as long as you feel awesome in your clothes!

Early Bird vs Night Owl

Early Bird vs Night Owl
Our Support Team is stand by 24/7, providing our Support Heroes with the opportunity to maximize their productivity, whether they are Early Birds, or Night Owls!
Unlimited Coffee

Unlimited Coffee
Unlimited disk space in our hosting services and unlimited coffee in the office! It's our primary fuel, so we make sure it never runs out.
Fresh Fruit

Fresh Fruit
We always try to get pumped up with the necessary vitamins from the fresh fruit that take over our kitchen. Grab a banana! They are a huge hype!
Ideal Location

Ideal Location
We live in a place that most people choose for their vacations - Crete, Greece! The climate, the amazing food and the calmer pace of a small city improve our standard of living and increase productivity!
Job Openings
Management
General Manager (Albanian)
Support
Senior Support Technician
1st Level Support Hero (Albanian)
Developers
Senior Software Engineer
Software Developer
Junior Software Developer
Marketing
Product Marketing Manager
UI / UX Designer